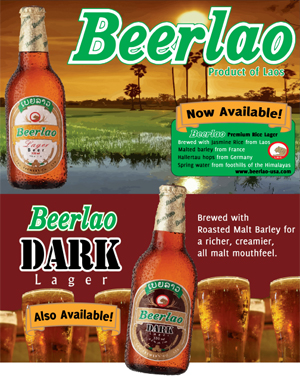 Beerlao is a premium authentic rice beer brewed from a unique blend of the finest European and Lao ingredients, a fusion of the best traditions of East and West.

Brewed in Laos with hand picked indigenous rice varieties, spring water originating from the foothills of the Himalayas, Hallertau hops, German yeast, and French malted barley.

The oldest archeological records of rice cultivation in the world can be found in Laos, and throughout the millenia Laos has provided a home for more varieties of rice than any other country in the world. Today some 3 to 4,000 varieties can be found in Laos. The same traditions of care, cultivation, and stewardship that have created this unique heritage can be tasted in the crisp, clean, and relaxed taste of Beelao.

For more information, visit our blog at beerlao-usa.com.