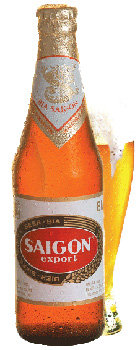 Vietnam's very own brewing tradition since 1875 comes to the US in a pilsner style lager, light and smooth to easily go with bahn mi, bun and pho dishes.

The Saigon Beer Company was started from a small brew house by a French businessman. After over 100 years of existence and development, it was officially owned and operated by the Vietnamese people since 1977, and the company was officially named Saigon Beer Company or SABECO.

Its long famous brand was "33" which stands for the 33- centiliter bottled. Due to international trademark laws its name was soon changed in Vietnam to "333" and was made available in aluminum cans. When the leaders of SABECO decided to bring "333" to America the name was changed to Saigon, again due to trademark laws and to recognize the city where it was first brewed.