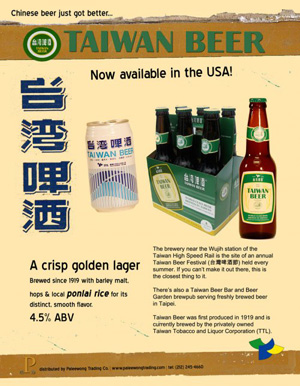 Taiwan Beer is a light amber beer with a distinct taste produced by the addition of locally produced ponlai rice during the fermentation process. The beer is served cold and recognized as an especially suitable complement to Taiwanese and Japanese cuisine, especially seafood dishes such as sushi and sashimi. Taiwan Beer has won international awards, including the International Monde Selection in 1977 and the Brewing Industry International Awards in 2002.

Three brews, all amber, are sold under the name Taiwan Beer. The Original brew is sold in brown bottles and blue and green cans. The Gold Medal brew, introduced in April 2003, is sold in green bottles and cans. Both brews are 4.5% alcohol by volume and are regularly seen in Taiwan's convenience and grocery stores. The newest brew, Taiwan Beer Draft, is designed to be sold fresh. It is most often served in restaurants and bars, where it is available on tap or in its signature solid green bottle. Because of its early expiration date, it is rarely seen in stores.

Taiwan Beer is mass produced at the Taiwan Beer Factory in Wujih, Taichung County. It is also brewed on site at the Taiwan Beer Bar in Taipei.

More info at www.taiwanbeer-usa.com.